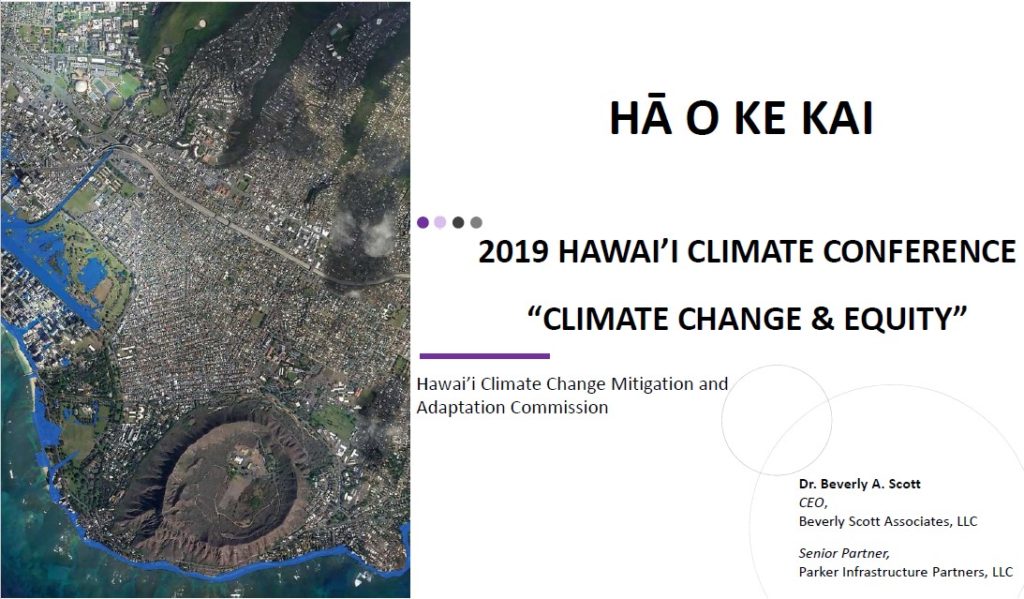 Keynote Speaker, Hawaii Climate Change Conference, "Ha O Ke Kai" January 14, 2019
Dr. Scott's keynote will help to frame the issues of transportation, climate change, and equity.
The Governor will open this conference which highlights a broad climate change initiative of the State of Hawaii and its many partners and identifies what actions must be collectively pursued to mitigate the potentially catastrophic effects of global warming. The Conference will help to set the tone for the State Climate Commission's work for 2019 and beyond.
The Commission's work is two-fold: mitigation (the focus being reducing emissions from ground transportation); and adaptation (the focus being implementing adaptation to sea level rise). Three panels will grapple with questions and challenges of how to implement transformative climate change mitigation and adaptation actions. Partners and public alike will get an inside view of how discussions lead to action, and will provide their comments and questions for panelists to consider. The conference is open to the public. There is no registration fee necessary to attend. For more information on the conference, go to climate.hawaii.gov/conference/.