About CATbus: Transit Industry Trailblazer

by
Keith Moody, General Manager
On January 10, 1996, twenty-three years ago, Clemson Area Transit, aka CATbus, began offering fare free bus service to Clemson University and the City of Clemson. CATbus now serves three counties, five municipalities, and four universities. CATbus operates 33 buses, including the only 2 articulated buses in South Carolina. CATbus also manages and operates the ONLY ALL Electric bus fleet of transit buses in the United States (in the City of Seneca), which has been in full 100% electric operation for 4+ years, and we have demonstrated the electric system to many guests visiting us to see and understand the technology, some from as far away as Paris, France.
In 2011, CATbus moved into our new state of the art, environmentally-friendly headquarters. The facility includes 210 solar panels to generate most of the electricity and hot water needed. CATbus has also received several distinguished awards: Non-profit Business of the Year, Green Business of the Year awarded by local Chambers of Commerce, the Spare the Air Award for environmental sustainability presented by South Carolina DHEC; and a prestigious award from the South Carolina Clean Energy Business Alliance.
CATbus launched a new GPS real time tracking application in August 2015. The application was developed in partnership between TransLoc and Passio Technologies. The App, in addition to showing you the location of the bus and what time it will arrive at your stop, also notifies you of how full the bus is. CATbus was awarded a $3.9 million Lo-No grant, and with it, we are getting ready to change the remaining CATbus routes to All Electric. CATbus is committed to changing our entire fleet over to 100% electric.
In the area of workforce development and "people-readiness", we started a program with the local South Carolina Vocational Rehabilitation Offices in Seneca and Anderson, South Carolina. Through this program, prospective drivers go through training at the Vocational Rehabilitation Center and are then handed off to our CATbus staff to complete the CDL training and licensing. Once they complete the CDL training and receive their Class "B" CDL license, we hire them into the CATbus team. This has been a fantastic partnership!
For more information about CATbus, please visit www.CATbus.com.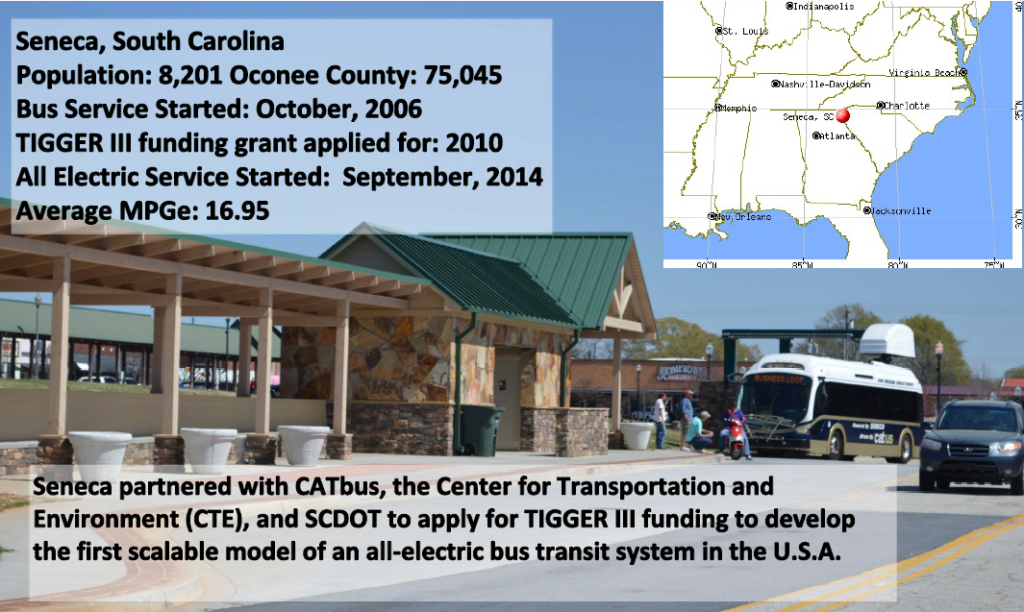 citation for featured image – Edwards Chris. "59b601171448a.image.jpg", thetigernews.com, Sept 11, 2017, (http://www.thetigernews.com/news/clemson-catbus-rolls-out-new-changes-to-bus-routes-wait/article_e24b054c-969c-11e7-8306-2727afce4d16.html)