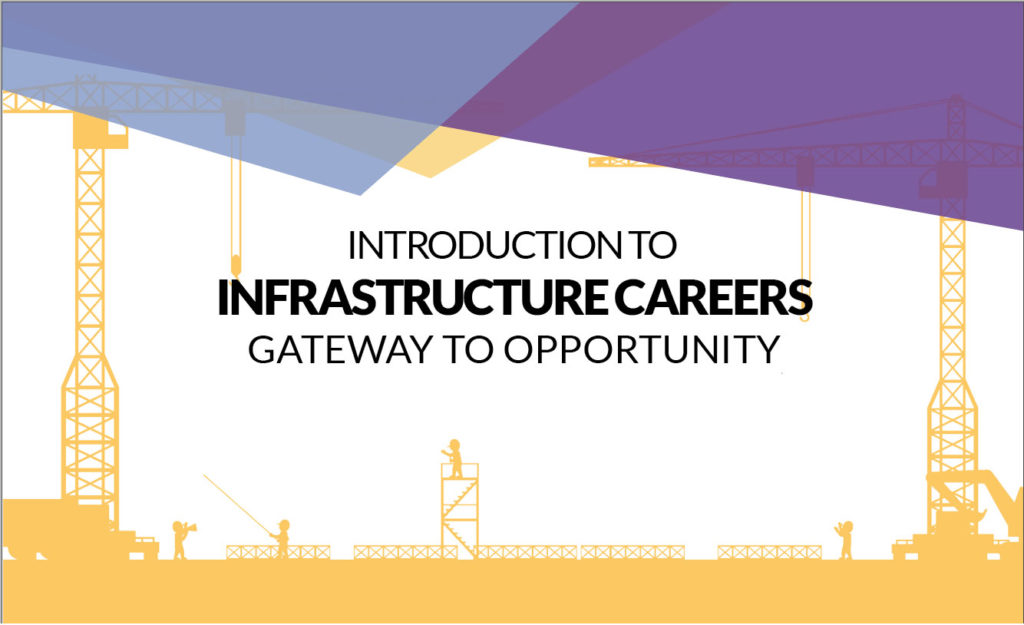 2019 Summer Pilot Program
Dear Colleagues, Friends, and Supporters:
Last year, we launched IYAI+ to help address the high-risk next generation workforce development challenges facing our nation's critical infrastructure sectors – with specific emphasis on significantly increasing the participation of historically under-represented groups – people of color and women.
This summer,IYAI+ advanced an innovative, six-week "Introduction to Infrastructure Careers – Gateway to Opportunity" summer pilot program (June 24 – August 2, 2019) for a cohort of 11thand 12thgraders in partnership with Cardozo TransSTEM Academy, Cardozo Education Campus, District of Columbia Public Schools, its Platinum Sponsor, the American Public Transportation Association (APTA) Business Members and staff; and, many Industry Contributors– Sponsors, Site Visit Hosts, and Presenters. Cardozo's TransSTEM Academy (formerly TransTech) was established in 1991 as the first transportation studies high school academy in the Washington DC metropolitan area. The Academy is nationally recognized in the transportation sector for its trailblazing work in STEM education at the high school level. Total student enrollment at the Cardozo Education Campus is approximately 800; 53% of the students are Black; 43% are Hispanic; and 100% of the students are from low-income households.
Forty-plus contributors, including representatives from a broad cross section of the critical national infrastructure sectors, i.e., transport, water, energy, telecommunications, information technology, advanced manufacturing; as well as important non-profit and community-based participation worked with our team to make this Program a reality. All are recognized below; and, we are deeply appreciative for their contributions of time, talent, and resources.
Multi-sectoral, highly interactive, and community-focused,this introductory six-week program was designed to go beyond the traditional STEAM/STEM classroom experience. Working with Industry Sector Coordinators fromAPTA, the Congressional Black Caucus Foundation, DC Department of Transportation, DC Water, DC Energy and Environment, DC Sustainable Energy Utility (DCSEU), Energy & Environment Consulting, HDR, HNTB, the International Association of Machinists and Aerospace Workers (IAMAW), the Program included classroom instruction, industry speakers, mentoring sessions, and offsite tours of major infrastructure facilities and sites throughout the DC metropolitan area.
Three (3) primary Program objectiveshave guided our work. Objectives which we believe are important elements for achieving greater success in attracting and retaining our next generation of infrastructure leaders, innovators, skilled workforce, and entrepreneurs – ALL "community-builders". They are:
Expose youth to a broader range of infrastructure careers— transferable educational preparation and skills (preparing them for both "good" jobs and future business opportunities);
Reframe the image and narrative around infrastructure careersto one of "community-building" – directly making the critical connection between the availability, type, and quality of "infrastructure" facilities and services – and, the impact on people, communities, and overall societal outcomes;
Raise the bar to inspire, excite, and actively engage our youth in thoughtful and meaningful community-building opportunitiesas an integral part of their STEAM/STEM classroom experience– respecting and incorporating their significant "learned experience"to improve conditions within their respective communities.
This is the focus of our "My Beloved Community" transformative justice initiative, which we have been honored to work in collaboration with the Charles Hamilton Houston Institute for Race and Justice, Harvard University Law Schoolto include in our programming. This "hands-on", highly interactive program element requires students to apply their class and learned experience to "Tell Their Story" – giving voice to the impact of critical infrastructure on their personal lives, community, and society. And, as importantly, share what they intend to do to make a positive difference.
Again, many thanks to our Partners, Sponsors, and many Contributors. We genuinely believe that investing in "people-readiness" across our critical infrastructure sectors so that all Americans can achieve their full potential is key to achieving and sustaining "OUR" Beloved Community. IYAI+ is committed to expand its reach and accelerate this important work in partnership with interested communities and organizations across the country. If you have interest in working with IYAI+ on a program in your area, please drop me a personal note at: beverly@iyai.org.
DEEPEST APPRECIATION TO ALL OF OUR CONTRIBUTORS
Alexandria Renew Enterprises
American Public Transportation Association (APTA)* – Platinum Sponsor
American Society of Civil Engineers (ASCE)
AMTRAK
Arlington County, Virginia (Transit Bureau)
B&C Transit Inc.*
Beverly Scott and Associates LLC*
Bob Glover, Consultant (Charles Hamilton Houston Institute for Race & Justice)
Buffie LLC*
Cardozo TransSTEM Academy*
CenturyLink
Conference of Minority Transportation Officials (COMTO)
Congressional Black Caucus Foundation, Inc. (CBCF)
Covanta
DC Department of Energy & Environment (DOEE)
DC Sustainable Energy Utility (DCSEU)
Drew Lehman, Environment & Education Consulting
GENFARE
Georgia Psychiatric Consultants*
Easter Seals
HDR*
HNTB
Harvard University School of Law, Charles Hamilton Houston Institute for Race & Justice
Howard University
International Association of Machinists and Aerospace Workers (IAMAW)
International City/County Managers Association (ICMA)
LA METRO
Louis Berger
Maryland Department of Transportation (MDOT)
Rev. Bobby Livingston, Mount Bethel Baptist Church
National Society of Black Engineers (NSBE)
NoMa Parks Foundation
Parker Infrastructure Partners LLC*
Squire Patton Boggs
Tom Waldron, HDR*
Transportation Learning Center (TLC)
The Urban Institute
University of the District of Columbia
US Environmental Protection Agency (USEPA)
Washington Metropolitan Area Transit Authority (WMATA)
Water Environment Federation
WSP
(*Platinum, Gold, and Silver Sponsors)